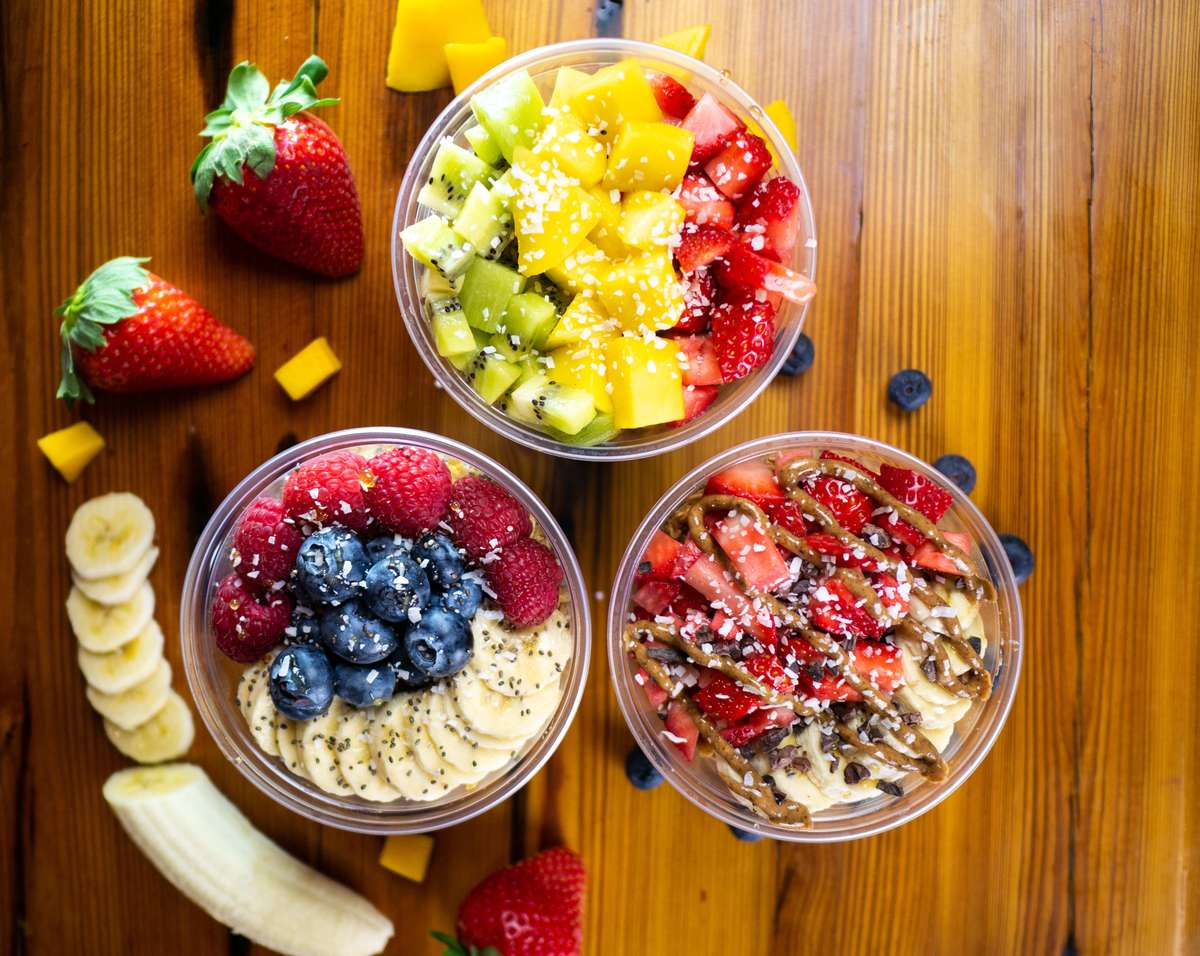 Lunch and Dinner All Day
Become a VIP
Be the first to receive updates on exclusive events, secret menus, special offers/discounts, loyalty rewards & more!
Lunch and Dinner All Day
Burgers
Served with handcut fries or coleslaw
Sweet Potato Fries +$1

substitute chicken for any burger
GF bun +$1
Acai Bowls
acai base topped with gf granola, fruit, honey drizzle, coconut

Add ons or substitutions 
Nut free granola $1 , Peanut Butter $1, Raspberry$1, Almond Butter $1, Cacao Nibs $.50
Wraps, and Paninis, Etc
Choice of panini, tortilla or lettuce wrap
served with handcut fries or coleslaw
Sweet Fries +1
Paninis on Sourdough
Salad
add chicken $6, steak $8, burger $8
Choice of lemon or balsamic vinaigrette
Large Plates
Bowls served over brown rice with chopped salad and asian slaw, lunch or dinner portions available
Featured Wines
Vin Blanc
Domaine Millet Ugni Blanc - $8 | $29
Sonoma Cutrer Chardonnay - $14.50 | $50
Ruffino Prosecco Split bottle - $8.50
Manoir de la Firetiere Sauvignon Blanc - $9.50 | $32
Domaine Collin Cremant Brut Sparkling - $9.50 | $32
Vin Rouge
Domaine de la Bouvaude Cotes du Rhône - $9 | $32
Vignoble Dampt Chevlier d'Eon Pinot Noir - $13.50 | $42
Château Costis Bordeaux - $9 | $32
La Patache Medoc 2015 Bordeaux - $40
Silver Totem Cabernet - $12 | $42
Vin Rose
Domaine Millet Rose - $9 | $32
Cotes de Provence - $14 | $48
Drinks
Kombucha, Gus Soda, Spindrift Seltzers,
Saratoga Sparkling and Natural Water,
Orange Juice, Apple Juice, Root Beer, Pepsi,
Diet Pepsi, Sierra Mist, Ginger Ale, Lemonade
Consuming raw or undercooked meats, poultry, seafood, shellfish, or eggs may increase your rish of foodbourne illness. Before placing your order, please inform your server if a person in your party has a food allergy.